Privacy Policy
Tokyo Sharehouse (LLC) considers the protection of customer, client, and employee personal information to be of the upmost importance, and adheres to the following provisions in regards to managing said information.
In regards to the handling of personal information, Tokyo Sharehouse (LLC) has established "Personal Information Protection Regulations" abiding by the laws pertaining to the protection of personal information (referred to hereafter as Personal Information Protection Laws, carrying out continuous employee training, reasonable safety measures, as well as necessary corrective actions under the supervision of the administrator.
When acquiring personal information, Tokyo Sharehouse (LLC) will take fair and just action to notify the constituents of said personal information or make an official announcement on the website regarding the purpose of its use.
Should Tokyo Sharehouse (LLC) acquire personal information by indirect means, essential information regarding the acquired information such as the purpose of its use shall be announced publicly on the website.
Personal information at Tokyo Sharehouse (LLC) shall only be used for purposes acknowledged by the constituents of said personal information or within the scope of usage publicly announced on the website by those given authority in response to specific business affairs for necessary job-related work.
Should Tokyo Sharehouse (LLC) send personal data to a subcontractor, a suitable subcontractor shall be chosen and all necessary safety measures will be provided for.
Tokyo Sharehouse (LLC) shall not offer personal data to third parties without permission under any circumstances where it is not deemed necessary by law.
After confirming the owner of any personal data, Tokyo Sharehouse (LLC) is prepared to comply with any requests such as the disclosure, amendment, suspension of use, or deletion of said personal data.
Definition of Personal Information

Personal Information may be defined as attribute information such as a customer's name, birthday, telephone number, or place of employment, e-mail address, home address, or any other information provided by a customer. By combining this information, an individual customer can be specified.

Personal Information's Purpose of Use

When using the Tokyo Sharehouse website, most services can be used without disclosure of personal information. However, there are some services where we will ask for personal information to be provided.

Services Which Require the Disclosure of Personal Information

1. TOKYO SHAREHOUSE Mail Magazine Subscription
For those who wish to subscribe to the mail magazine, registration of an e-mail address is required for the subscription. Although the Tokyo Sharehouse website issues an official magazine at irregular intervals, it uses a delivery system from a third-party agency. Mail magazine delivery systems for all delivery site by their very nature manage registered e-mail addresses and prevent them from being shown to the public, including the magazine publisher. For this reason, all personal data entered to register for the mail magazine will be managed by the delivery site when registered.

2. Taking Part in the Mail Magazine
Questions as well as answers collected for the mail magazine may be published within the magazine upon receiving consent. Furthermore, in the case of inquiries, received information will be used where necessary to answer said inquiries.

Personal Information Provided to Third Parties

Personal information kept by Tokyo Sharehouse (LLC) will be provided to third parties under the following circumstances.
After receiving consent from the owner of personal information to be sent.
Under any circumstances based on regulations of any laws or ordinances.
Should it be necessary to protect a person's life, health, or personal assets, and there is difficulty in receiving consent from the owner of the personal information to be sent.
Should it prove particularly necessary for the improvement of public health or to promote the sound development of children, and there is difficulty in receiving consent from the owner of personal information to be sent.
Should cooperation with an institution of the country, local public body, or commissioned agency be required to carry out business established by law, and acquiring consent from the owner of the necessary personal information potentially proves to be a hindrance to completion of said business.
To the extent necessary to fulfill its purpose of use, information shall be disclosed as necessary to reliable subcontractors terminating the nondisclosure agreement.
Regarding any requests from clients whose personal information will be disclosed, amended, suspended, etc. and said procedures are handled by Tokyo Sharehouse (LLC), after confirming the personal information is that of the client in question Tokyo Sharehouse shall promptly comply as necessary.
Links to Other Websites

Although the Tokyo Sharehouse website has links to third party websites, please be aware that Tokyo Sharehouse (LLC) bears no responsibility for the privacy protection on any linked third party websites.

Regarding Revisions

The contents of this privacy policy may be revised in order to protect the personal information of customers or to comply with changes in Japanese law. Because customers are not notified of the policy revisions, we ask that customers occasionally check this page.

Contact Information Regarding the Handle of Personal Information

For any inquiries regarding the handling or management of personal information by Tokyo Sharehouse (LLC), please use the following contact information.
TOKYO SHAREHOUSE LLC
5F, Diamond Akasaka Bldg, 1-4-14, Akasaka, Minato-ku, Tokyo, 107-0052, Japan
info@tokyosharehouse.com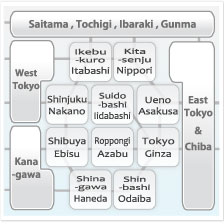 RECOMMEND
Updated information

*Tokyosharehouse (LLC) does not carry out the administration of specific services that may be deemed as unfair toward other users or serve as an intermediary for moving into housing. For any questions regarding specific services or moving, please directly contact the owner or manager of the share house you wish to inquire about through our website. Also, please be aware that we cannot provide the contact information of the share house managers or owners.