Area
Tokyo-To, Setagaya-Ku, Soshigaya 6-17
Rent
65,000JPY ~ 70,000JPY
Access
15 min walk from Soshigaya Okura Sta.
Requirement
Male, Female
The Soshigaya house is located in the quiet residential area of Setagaya, located just past the shopping area in front of the station. The share house has a relaxing atmosphere as if coming home to your grandmother's house out in the country side. The 12 tatami living room with bright light coming in through the window is the perfect place to relax. The kitchen is about 8 tatami in size, including pots, plates, kitchenware -- everything you need is here. Each room is 3 to 8 tatami in size, and because each room is in a corner of the house, you can ensure your privacy. There are super markets, convenience stores, drug stores, and a Daiso department store, so your daily shopping will b...
more
Common Space
TV

Kitchen

Fridge

PC

LAN

Washing

drier

Shower

Bath

Toilet

Bicycle parking

Other
Move-in Conditions & Managing Style
| | |
| --- | --- |
| | |
| Male | Female |

Manager

Manager (Routine visits)
about:2 per week

Contract

Min contarct
Negotiable

Japanese

Personal identification
Registered seal certificate

Cleaning

Residents on rotation
about:1 per week

| | |
| --- | --- |
| Deposit | |

foreigner

Passport
Visa
Alien registration card

Rule

No smoking permitted in the building
Men are not allowed inside the share house
Friends may spend the night with prior notification

| | |
| --- | --- |
| Event | |
note:
Come on UP Ltd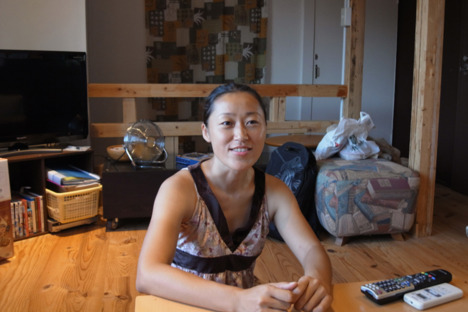 Residents come from as far north as Hokkaido and as far south as Australia. Their occupations vary from office ladies to consultants, to actors part-timing at restaurants to accountants. Their bond was not from being friends or family, but grew from meeting as share mates and living together. A bond that grew as they became colleagues and friends. A bond that developed as people of different cultures and values gathered and grew together. While many events take place as various people gather together here, what everyone shares is the idea that it's fun to grow and improve by influencing one another. That's the Come On Up Share House.
Owner listings

*Tokyosharehouse (LLC) does not carry out the administration of specific services that may be deemed as unfair toward other users or serve as an intermediary for moving into housing. For any questions regarding specific services or moving, please directly contact the owner or manager of the share house you wish to inquire about through our website. Also, please be aware that we cannot provide the contact information of the share house managers or owners.