Area
Tokyo-To, Suginami-Ku, Eifuku 1
Rent
65,000JPY ~ 80,000JPY
Access
6 min walk from Eifukucho Station
Requirement
Male, Female
The house was renovated with purely Japanese style. There's spacious living room with a kitchen counter and a Japanese garden style courtyard, where you can enjoy barbecues with the other residents. Eifuku Come on UP is also an environmentally friendly eco-house. During renovation, we made use of handmade furniture, and utilized previously used but sturdy material when building the house.
Common Space
TV

Kitchen

Fridge

PC

LAN

Washing

drier

Shower

Bath

Toilet

Bicycle parking

Other
Move-in Conditions & Managing Style
| | |
| --- | --- |
| | |
| Male | Female |

Manager

Manager (Routine visits)
about:1 per week

| | |
| --- | --- |
| Contract | Min contarct |

| | |
| --- | --- |
| Japanese | |

Cleaning

Residents on rotation
about:1 per week

| | |
| --- | --- |
| Deposit | For 1 month's rent |

| | |
| --- | --- |
| foreigner | |

Rule

No smoking permitted in the building
Friends may spend the night with prior notification
Disposal of garbage is done on a turn based system

| | |
| --- | --- |
| Event | |
note:
House meetings as well as dinners (once per month). There are also parties with share house residents and their friends as well as parties with other Come on UP share houses.
Come on UP Ltd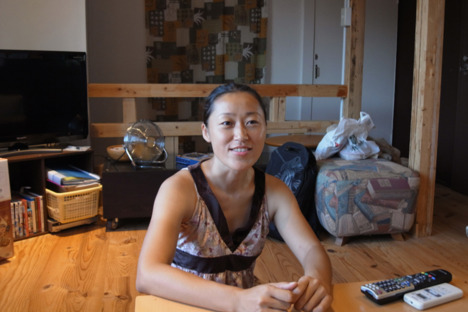 Residents come from as far north as Hokkaido and as far south as Australia. Their occupations vary from office ladies to consultants, to actors part-timing at restaurants to accountants. Their bond was not from being friends or family, but grew from meeting as share mates and living together. A bond that grew as they became colleagues and friends. A bond that developed as people of different cultures and values gathered and grew together. While many events take place as various people gather together here, what everyone shares is the idea that it's fun to grow and improve by influencing one another. That's the Come On Up Share House.
Owner listings

*Tokyosharehouse (LLC) does not carry out the administration of specific services that may be deemed as unfair toward other users or serve as an intermediary for moving into housing. For any questions regarding specific services or moving, please directly contact the owner or manager of the share house you wish to inquire about through our website. Also, please be aware that we cannot provide the contact information of the share house managers or owners.